WBLS And HOT 97 Announce Winners Of The Carver Bank 2021 Future Black Leaders Contest!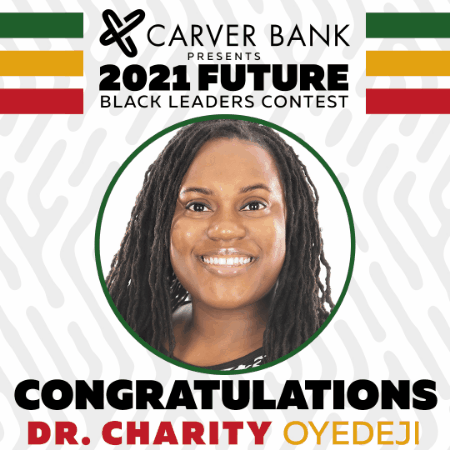 WBLS 107.5 continues its 2021 Black History Month celebration by announcing the winners of the Carver Bank Future Black Leaders contest.  Carver Bank is a partner of the month-long event which features a five-part speaker series, historical and music-based programmatic content, a fundraising campaign for the Thurgood Marshall College Fund.  
"It's rewarding to team up with partners like Carver Bank who truly understand our mission to support the future of the community," said Skip Dillard, VP National and Community Partnerships for HOT 97 and WBLS.  "There were so many beautifully crafted essays to review.  It is truly wonderful to step back and see all the good coming up with the next generations."  
Contestants were invited to nominate themselves or a leader they know for a chance to win a thousand dollars from Carver Bank and recognition as a true, local, Future Black Leader.  Each essay submission was reviewed by a panel of judges who scored each essay using a point system based on community impact, commitment to community and persuasiveness of submission.  Four (4) winners were selected from hundreds of entries.  The winners are: Dr. Charity Oyedeji, Cassandre Davilmar, Frances Perez-Rodriguez, and Jonathan Burnley. 
"Being part of the community and recognizing the dedication and talent in the next generation of leaders is a privilege we don't take lightly," said Michael Pugh, President, and CEO of Carver Bank.
"These four individuals carry the spirit we need for unity and forward momentum and we're proud to give them the recognition that is truly well-deserved." 
Meet the Carver Bank Future Black Leader Contest Winners: 

Dr. Charity Oyedeji  
Dr. Oyedeji is an emerging leader in public health and medicine.  Her groundbreaking research in sickle cell disease in seniors will help redefine best practices for the medical community and for people who live with it.  Dr. Oyedeji's advocacy and research contribution will afford sickle cell patients longer life expectancy and overall better quality of life. 
Cassandre Davilmar 
Cassandre is a leader to her community and a beacon of black business leadership. She is the owner of Lakou Café where she serves up delicious Haitian food and a safe space for her local community – where safe spaces are rare.  Throughout the pandemic, Cassandre and her staff created Grandschamps, an organized and unified local businesses effort to support local people in need.  
Follow: IG
Frances Perez-Rodriguez 
Frances A. Pérez Rodríguez is a Farm School NYC graduate, the Food & Land Education Coordinator for Woke Foods, and the current Farm Manager of La Finca Del Sur, a Community Farm in the South Bronx. Some of her most important work happens through her collaboration with teens, primarily in the Bronx, to support them into becoming active members of La Finca Del Sur [LFDS] and learning to help in the fight for food access and land sovereignty. Frances is a compassionate mentor, leader, and tireless abolitionist invested in creating people-led alternatives to police, as she believes the people have the solutions and wisdom to manifest a more just and equitable world.  Follow: IG | TW
Jonathan Burnley 
Jonathan Burnley is a graduate of Rutgers University's School of Engineering with a dream to ignite a passion for STEM learning in girls and young children of color.  Jonathan launched the 501(c)3 organization

USTEM

where kids engage with hands-on age-appropriate science experiments.  Throughout the pandemic, Jonathan and his team created a virtual space online where children can log-in and continue to learn at home with their families.  Jonathan's dedication and achievements are a direct result of his gratitude to the people who helped him along his journey.