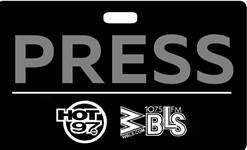 WELCOME
Welcome to the WBLS 107.5 Publicity page, the central location for all WBLS press releases, event credentialing information, approved talent photos, and more.
WBLS 107.5 FM is part of the MediaCo New York radio cluster, alongside sister-station WQHT 97.1 FM. The cluster and each station reflects the diversity, culture & attitudes of the greatest city in the world, NYC! We reach trendsetters, influencers & a lifestyle- oriented audience that spans teens, college students, young adults, parents & professionals. We're small enough to be flexible to our clients' needs, but large enough to have unrivaled media brands and lifestyle platforms.
---
Official Boiler Plate
WBLS 107.5 FM is a New York Urban Adult Contemporary station with 2.3 million listeners. 60% of WBLS' listeners are between the ages of 25-54. Broadcasting from its signal are award winning and internationally known personalities like Steve Harvey, Deja, Jus Nik, Lenny Green, Donnie McClurkin, Dahved Levy, DJ Marley Marl and more. WBLS has been America's most recognizable black radio station, as the #1 source for R&B music and lifestyle reaching the tri-state area. For more information, please visit www.WBLS.com, and follow us on facebook.com/WBLS1075NYC, twitter.com/WBLS1075NYC, instagram.com/wbls1075nyc, and youtube.com/wblsfm1075.
---
CONTACT US
All media inquiries regarding interviewing WBLS 107.5 talent, event credentials, and other general press questions, please email [email protected].
EVENT CREDENTIAL INFORMATION