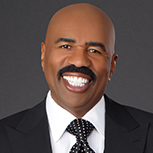 Steve Harvey is the host of the Steve Harvey Morning Show radio program, and the popular TV shows Family Feud and Celebrity Family Feud, The Steve Harvey Show, and family favorite Little Big Shots. His popularity continues to grow to global proportions, bolstered by his new role as host of the Miss Universe Pageant. Harvey is currently one of the most powerful voices in media, touting a career spanning nearly 30 years as a top stand-up comedian, actor, award winning TV personality and talk show host, best-selling author, entrepreneur, and humanitarian.

Thank you for attending Circle of Sisters 2020! November 20th and 21st black women,…
This is really sad.  Bobby Brown's son, Bobby Jr. has died at age 28….
Watch an exclusive screening of "PUSHOUT: The Criminalization Of Black Girls In Schools," at…
Gospel singer Erica Campbell is sharing some interesting relationship/marriage advice. With her new podcast…
Chaconia Candles is a Black -owned business, created to "created to illuminate memories of…
Enter To WIN Tix To COS – HERE! Buycheapcentral.com is located in Queens. New…