Bea Dixon the CEO/Founder of 'The Honey Pot Co' started her company after suffering from bacterial vaginosis for months. Dixon revealed that an ancestor visited her during a dream and gave her a vision that would change her life.
Fast forward in 2014, Dixon launched her plant-based feminine hygiene company which is made with herbs, botanicals, and antioxidants. A product made to heal women. The Honey Pot Co was eventually picked up by Target and Whole Foods.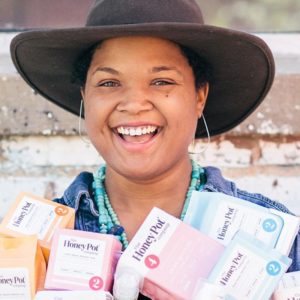 Dixon appeared in a new Target commercial to share her story. She recalled how difficult it was to start her business, but luckily the brand took a chance on her, allowing her product to be sold in their stores. In the ad, she says: "The reason why it's so important for honey Pot to do well so that the next Black girl that comes up with a great idea, she can have a better opportunity. That means a lot to me."
Her words may have been motivational to some, however, white women found her statement to be insulting. In addition, they flood 'The Honey Pot Co' review page rating it a 1-star and leaving nasty comments. Supporters immediately caught wind of this and took to twitter pushing the brand forward with positive reviews.
https://www.youtube.com/watch?v=23kUpB79cQk
No statement has been released from the company, however, Dixon interviewed with ESSENCE recently and she opened up about the backlash and she actually doesn't mind it.
"I wasn't necessarily blindsided [by the negative reactions], but I also didn't have an expectation. This was not Honey Pot's commercial, it was Target's commercial. It was shot during Black History Month and for Women's History Month. They chose that particular clip for a reason. I'm here for that story and that's why I said it. I know that there's a huge disparity when you look at the funding of businesses. I'm always going to be a proponent of us doing what we have to do so this isn't even a conversation. The only thing we as Black women business owners can do is make really successful businesses."
The Honey Pot's sales have doubled following all of the controversies.