Join us Thursday, July 30th, at 7 PM est, for the next WBLS & Hot 97 Town Hall: "Ceasefire – What Will It Take?" Hosted by Fatiyn Muhammad & Lisa Evers!
Our hosts, along with entertainers and various leaders in government, will address the rise of gun violence in recent weeks and engage in a critical discussion to find solutions to this issue, that's putting our children and communities at risk.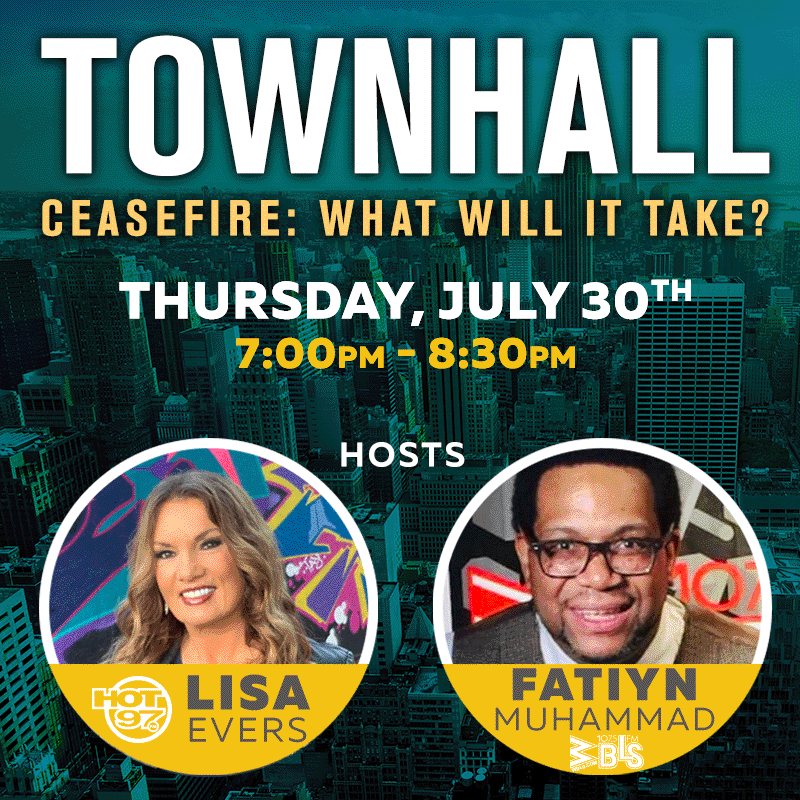 Panelists:
Brooklyn Borough President Eric Adams
NY State Senator Brian A. Benjamin
Casanova, Artist
Ifé Sharon Charles-Hewitt, Director of Anti-Violence Programs & Capacity Building, Center for Court Innovation
NYC Council Member Robert E. Cornegy, Jr.
Noel Ellison, Uncle of Brandon Hendricks
Erica Ford, CEO & Founder, LIFE Camp, Inc.
Tony Herbert, Founder, Advocates Without Borders
Queens District Attorney Melinda Katz
Kevin Livingston, Founder, 100 Suits
Chief Jeffrey Maddrey, NYPD Chief of Community Affairs Bureau
Iesha Sekou, CEO & Founder, Street Corner Resources​