Tiffany Haddish is speaking out amid her child molestation lawsuit getting dismissed last week.
In an Instagram story post, Tiffany reposted a Tweet from rapper DDG. The message said, "it's crazy how Black people hate on Black people 24/7. Sh*t backwards [for real]." Tiffany also added a crying and a prayer emoji, with the word "facts" in the post. It's not clear what she's referring to exactly, but it could have something to do with her name being in news headlines.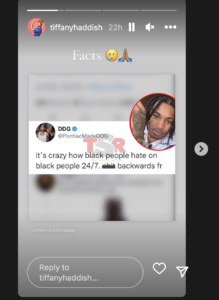 Over the last few weeks, the comedian's name hasn't been shed in a good light. Recently, an unidentified woman, known as, "Jane Doe," 22, filed a lawsuit against Tiffany and another comedian, Aries Spears, for allegedly molesting her and her younger brother years ago.
Jane Doe filed the suit on her behalf, and her brother, who is still a minor but dismissed the case with prejudice. Tiffany reportedly settled with the accusers out of court, and it's unclear why the plaintiff dropped the case.
Last week, TMZ caught up with The Girls Trip actress in an airport and asked how she feels now that "everything is behind her." Tiffany had on big "Mary J. Blige" shades, and when asked if any damage was done, she replied she "lost everything." Tiffany went on to say she lost all her jobs and is without one. In addition, she doesn't affiliate with Aries Spears.
After Jane dropped the case, she released this statement about Tiffany and said, "My family and I have known Tiffany Haddish for many years – and we now know that she would never harm me or my brother or help anyone else do anything that could harm us. We wish Tiffany the best and are glad that we can all put this behind us."
Jane Doe filed the case on August 30. Initially, when Jane filed the suit, she alleged that the comedians "molested" and "groomed" the plaintiff and her brother during the production of a comedy video in 2013 and 2014, when the plaintiffs were minors. The suit said their participation in the skit "stole the youth of a 7-year-old child and a 14-year-old child."
The suit alleged that the skit involved Tiffany teaching Jane Doe how to mimic fellatio on a sub sandwich. In a different skit one year later, Jane Doe's brother appeared in a skit called, Through a Pedophile's Eyes, featuring Aries luring the 7-year-old boy (Jane's brother), in a bathtub in his underwear.
Approximately a week later, the case was moved to federal court. NBC points out that six days after Jane Doe filed the lawsuit, Tiffany expressed her regret for partaking in the skit in a social media message. She said:
"While this sketch was intended to be comedic, it wasn't funny at all — and I deeply regret having agreed to act in it."